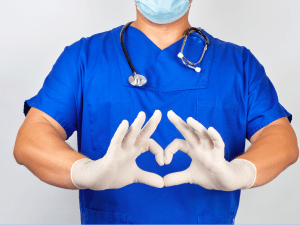 While we are excited to see you, please know that the health and safety of our patients and staff is our highest priority. We've always maintained a strict protocol for cleanliness and are taking it to new heights with COVID-19. Below are the increased measures we are taking:
Cleaning and Sanitizing. And Repeat.
We have implemented more stringent guidelines for cleaning and sanitizing the office. Exam rooms and frequently touched surfaces are now a hyper-focus before and after every patient.
Hand Washing
Thorough handwashing by the staff is strictly followed. Hand sanitizer is available to all staff and patients.
Masks and Gloves – Always
All staff will be wearing masks and gloves. We ask that all patients also wear masks. We'll have them available for you as well if needed.
Staggering Appointments
We are making every effort to stagger appointments so that you will be the only patient in the office during that time. For larger procedures involving liposuction, the center will be reserved the entire day for that patient.
Social Distance
We'll maintain social distance as much as possible in our spacious office.
Temperature Checks
The temperature of all staff and patients will be checked each day/appointment.
Screening Before Appointments and Rescheduling
As we are confirming appointments, we are also asking patients if they or their family members have any upper respiratory symptoms such as cough, fever or shortness of breath. If a chaperone is required, he/she must also be symptom-free. If anyone is even remotely ill, we are rescheduling appointments.
We continue to be available for virtual consultations until you are ready for an in-person appointment. To learn more or make an appointment, please contact us at 610.525.0606.